Appointment Reminders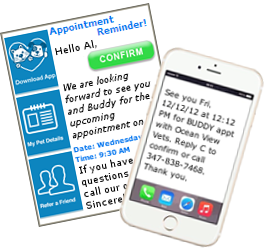 VetShout! Appointment reminders are sent via email and/or text message prior to upcoming appointments to all clients who have an email address and/or cell number in your veterinarian management software (VMS). We place the power in your hands to enable you to completely customize when and how reminders go out to clients. Clients can easily confirm appointments with our one-click confirmation and your practice will be notified via email or by reviewing a report available in your VetShout! online account.
There are two types of appointment reminders: we offer an "Advanced Notification" that goes out anywhere from a week to a month before the appointment, and a "Upcoming Appointment" that can be set for delivery anywhere from 7 days to a day before the actual appointment date and time, allowing your clients sufficient time to make any changes to their appointment if needed.
All VetShout! Appointment Reminders go out via email and/or text message, containing the pets name, the appointment date and time and a convenient one click confirmation button. Your email reminder also contains a photo of you or your team (optional), and your clinic name and logo. We also provide a built in map and directions to your clinic, a refer-a-friend button to help spread the word and get you new clients, and a whole host of social media tools that will allow your clients to "like" you on Facebook and to follow your business on Twitter. On top of all this, we provide a convenient "Add To Calendar" feature for your clients for their appointments.